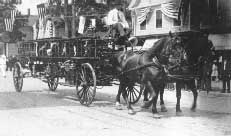 The year was 1898, and the small town of Tracyville in Texas Township, which lies on the eactern boundary of Honesdale, was giving birth to a new fire company. This company became known as The Alert Fire Company, and was destined to become an integral part of the Honesdale Fire Department.
During the first year the world around was in the midst of change. William McKinley was the twenty-fifth President of the United States, and William Boyd, later to be Hopalong Cassidy was born. The Atlantic City Steel; Pier was completed and five pounds of flour cost fourteen cents. Life was much simpler and community activities were an important part of most families lifestyles.
Exactly why the fire company was organized is unknown, but one can surmise that there had been fires in the vicinity that required the use of ladders. Rescue from the roof or second floor of a building was nearly impossible without long ladders, and it it a good probability that discussions at the first organizational meeting addressed this need. (The two steamers of Protection Engine Company, like most steamers did not have the capacity to carry ladders.)
The first record of the fire company is found in the Charter whcih was filed in the Wayne County Court on October 3, 1898. The names and offices of those tho conceived and organized the Alert Fire Company are as follows: Patrick J. Skelly, President; R. W. Penwarden, Vice-President; Samuel H. Brown, Treasurer; C. J. Knapp, Secretary; John J. Baird, Trustee; Edward Deitzer, Trustee; abd Fred Saunders, Trustee.
The first Hook and Ladder truck was a horse drawn wagon with the interior designed to carry various lengths of wooden ladders. The truck was supplied with leather water buckets used to carry water, to hopefully extinguish fires. Also carried between the ladders were hooks, whcih today are called pike poles.
Return toAlert Home Index page
Return to HFD Site Directory