Books and More Available For Sale
| | |
| --- | --- |
| Go | A Profile of Service, Protection Engine Co. No. 3 1853 - 1913, Hard Cover Book |
| Go | HAND BOOK of the Silsby Fire Engine, reprint of 1897 operating manual |
| Go | Restoration Guidelines for Silsby and Other Steam Fire Engines, paperback book 1999 |
| Go | Daisy the Firecow, delightful children's book by by Viki Woodworth, Boyds Mills Press, NEW |
| Go | Christmas Tree Ornament Silsby Steamer Limited Edition , 3-D Polished Brass, NEW |
| | |
| | |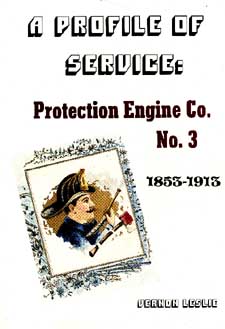 A Profile of Service by Dr. Vernon Leslie, is a local history written by this noted local historian and author, which covers the history of the Honesdale Fire Department and Protection Engine Co. No. 3 from its humble beginning to the arrival of the first motorized fire apparatus. Two chapters in the appendix, written by Chief (ret) Stanton Pratt cover a brief history of Silsby Manufacturing Co, and the restoration of Steamer 483. The book contains many illustrations and photographs. The book was released in three forms, a soft cover edition, a regular maroon bound hard cover edition and a limited gold bound hard cover edition. There are very few limited edition gold cover books remaining and moderate number of the regular edition. The soft bound edition is sold out.
Limited Edition at $34.94 plus 4.50 shipping and handling
Regular Edition at $19.95 plus 4.50 shipping and handling
HAND BOOK of the Silsby Fire Engine originally published in 1897 details the proper operating methods of both the old style and the newer Silsby Engines. Much information usagle with any operable steam fire engine.
$6.50 plus $3. 00 shipping and handling
To order e mail for detailed information.
Restoration Guidelines for
Silsby and Other Steam Fire Engines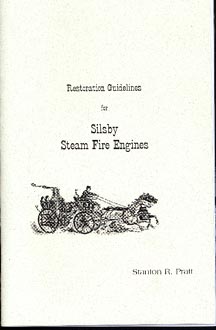 Note: This book is temporarily out of print. Watch for new second edition due soon...
Restoration of a steam fire engine is a major undertaking. When members of Protection Engine Co. No. 3 decided to restore Engine 483, few before them had taken on such a project. For that reason there was no good single source available concerning the process.
This guidebook is a step by step account of the processes used for this engine with suggestions for deviations from their procedure added. It also has information about engine weights, outside resources, Silsby models, existing engines, operational tips, and an actual pump test on engine 483 at the age of 115 years.
$8.00 plus $3. 00 shipping and handling
To order e mail for detailed information.
Daisy the Fire cow
by Viki Woodworth
Illustrated by Viki Woodworth
32 Pages * 10 x 8
Hard Cover w/ Jacket
Ages 4 and up * Picture Book
ISBN: 1-56397-934-9

Published by Boyds Mills Press

Retail 15.95 Your cost $12.75 plus $3.00 Shipping and Handling

To order e mail for detailed information.

An endearing story about Daisy the cow.

Daisy the cow is not like other cows. She's tired of swatting flies in the pasture all day. "There's a whole huge world out there," she says. "Excitement! Adventure!" And Daisy trots off to find it. On her journey, she comes upon a fire station that's looking for a mascot. Surely firefighting offers excitement and adventure. But a cow is not exactly the mascot the fire chief has in mind. Children will give three cheers for Daisy as she strives to become a firecow in Vicki Woodworth's funny and endearing picture book.
Limited Edition

Commemorative Christmas Ornament

Gold plated brass three dimensional hanging ornament shown near actual size was created by the Wayne County Historical Society with the assistance of Protection Engine Company No. 3 to commemorate the 150th. anniversary of the company.

$15.00 plus $3.00 shipping and handling

This beautiful ornament comes gift boxed and includes a brief history of the old Silsby Steam Fire engine it depicts. To order e mail for detailed information.
Return to MUSEUM page