Formal photograph of Protection Engine Company No. 3 taken in front of the City Hall station showing Steanmer No. 249 on the left and Steamer No. 483 on the right. Unfortunately none of the uniforms shown are known to exist today. Members in white were Company Torch Boys.
Most of the speaking trumpets shown in the photos are sitll in the possession of the company.
Though the steamer on the left was scrapped many years ago, a little more than memories remain today. One of the play pipes used for the AM Atkinson today is inscribed "Linta" which was the name of the older engine when it was owned by Towanda. Once in Honesdale it was renamed the RW Ham in honor of the chief of the company. Note the early fire hydrant on the extreme left.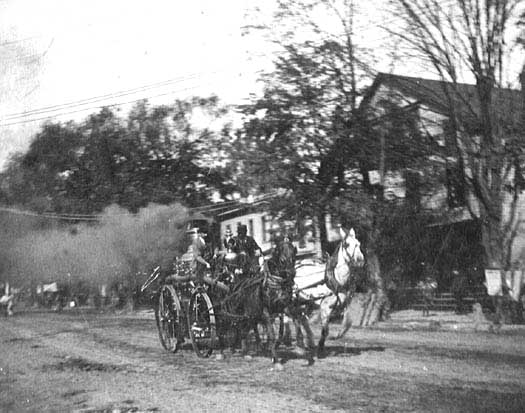 This early photo of the steamer pulled by a light team at a dead run down main street was taken around 1890 to 1900. This photo is from an old 3X3 brown toned albumen print taken by an unidentified photographer. On close observation you can see that the man in the right seat has his right foot off the foot rest and directly on or over the wheel, for what reason is not known. The only brake on the engine is controled only by the engineer who rides on the back step.

Return to Old Photo Directory Page