Friendship, NY
Silsby Engine No. 657
5th. size 1881
A lot more information about this beauty will follow. The Friendship has not only the engine but also the original pre-heater and the hose cart that came with the engine. It is not operable at the moment but that is in the works.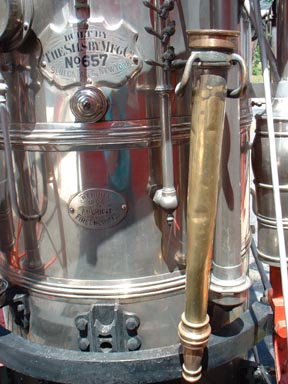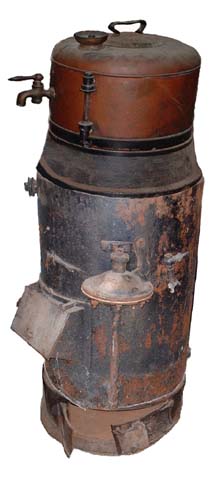 Silsby Manufacturing Company manufactured many items for the fire service and industry in addition to Steam Fire engines. One of the items in their extensive list was a heater designed to keep the water in the boiler hot and ready to go at all times. It was built of wrought iron with a copper water tank.
It was advertised as being completely automatic in operation, just requiring a scuttle of coal every twelve hours and a shake of the grate at the same time. It could be set to keep the water just below the boiling point or to maintain steam pressure up to 25 PSI. Water automatically circulated through the engine until it moved forward. Movement caused the lines to separate, valves to close, and the circulation within change due to the loss of the steamer. During the winter it even heated the engine house.
This is the only example of a Silsby heater I have seen. It belongs to Friendship. This picture is a composite of three images they supplied as the heater is presently separated into it's three main segments. Friendship also has the hose cart which was delivered with their engine in 1881.
Contact us .
Return to Directory