Oxford, New York
1888 5th. Sise Engine
This old engine has really been around. According to local records, the town of Oxford made an agreement to purchase a Steam Fire Engine in April of 1889, and the engine was delivered in November of that year at a price of $3000.00. Not sure why an 1888 was purchased in 1889 unless it had been used as a demonstrator or loaner.
Though it remained in service until 1939 it saw little use after 1898 when the municipality installed a water system with sufficient pressure for fire fighting purposes. The reason appears to be that members of the fire company did not use it enough to feel comfortable with it's operation.
In 1952 the fire company sold it to a collector in Lake Placid, NY. It was next sold to a museum in New Mexico. From there it went to another museum, in Albuquerque, New Mexico. Finally it was sold to a private collector in that same city and was on display on the second floor of their museum. Finally it was purchaseed by Mr. Donald Herb of Syracuse New York for his private museum.
Though the engine is not in operable codition, it is a beautiful example of a Silsby in original condition. In 2000 it was featured at the New York State FIre Chief's Association Convention in Syracuse.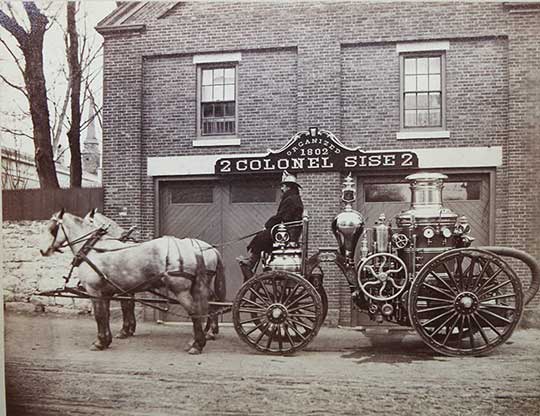 Many thanks to Donald Herb for providing these photos.
return to Surviving Engines List